An organization that trains more than 10,000 people.
Welcome to the PKC AGRO family.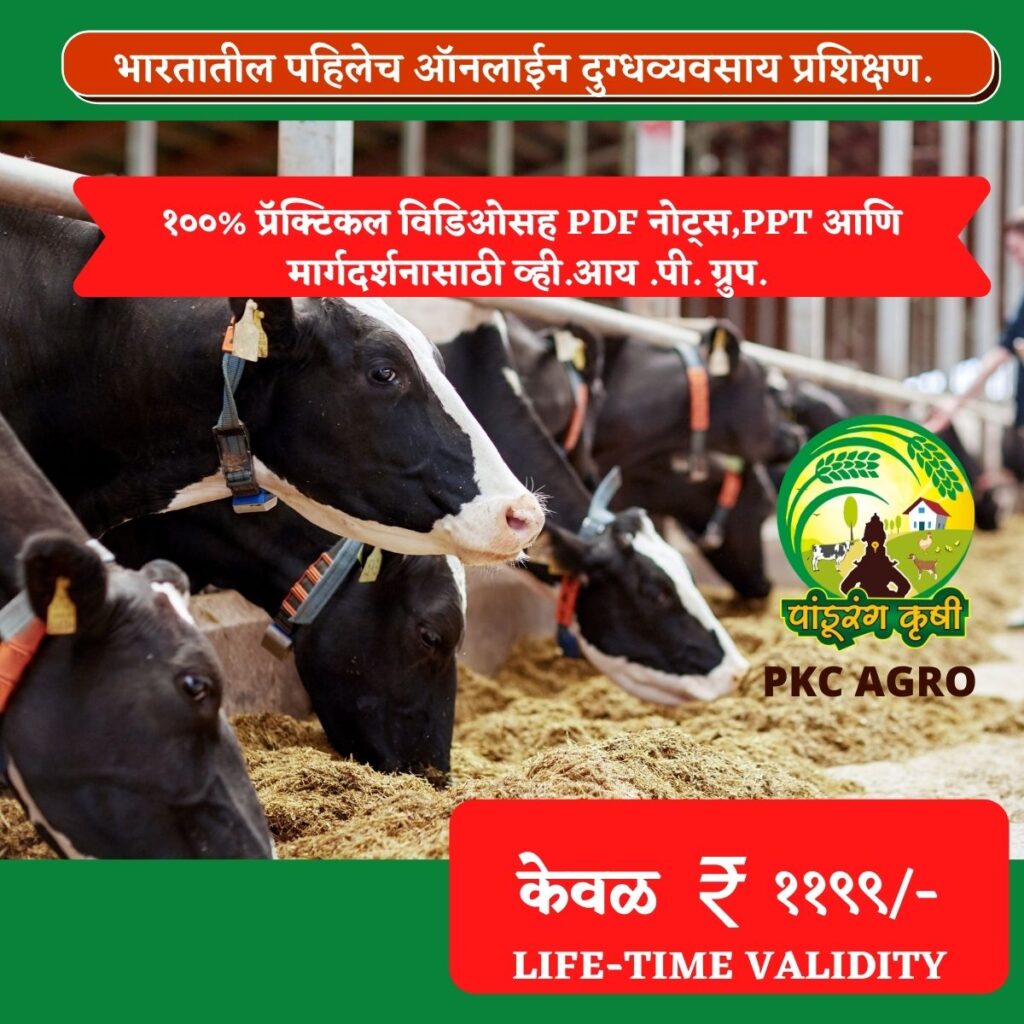 Through Pandurang-Krishi, we have been imparting training in various agriculture and agri-supplementary occupations for the last 9 years and it is a leading organization in this field. The organization has so far trained more than 10,000 farmers, entrepreneurs and employees in various fields such as goat rearing, poultry rearing, dairy business, pulse mill, oil mill, fruit and food processing industry. The organization prepares bank-loan and grant project reports for all types of businesses. Through this online training, we will provide information and training to farmers on various agro-supplementary occupations. It is the first organization in India to conduct such an experiment.
For Fisheries – Ponds Fishing can be done in villages, small and large natural lakes, artificial percolation ponds and reservoirs. Perennial watering is required for fish farming. When selecting groundwater for a pond, if there is light, sloping land, water can be drained out naturally. If there is flat land, the bottom of the pond should be lowered while fishing. The area of ​​the pond should be 0.1 hectare to one hectare. Maximum fishing can be done by keeping the water depth at two to two and a half meters. Initially fisheries should be started by creating 0.1 hectare watershed. For breeding, it is beneficial to select a large number of species of natural fish that are fast growing on natural and artificial food, with simple breeding methods and facing changes in the water. The major Indian Kapardha breeds are Katla, Rohu and Mrigal breeds, which grow near surface, middle and bottom natural food, respectively. In addition to this, if some amount of grass, silver and common kapardha is increased, it is possible to get maximum production along with Indian major kapardha by subsistence on this food. These fish are in great demand.
There is a lot of scope for fisheries in the wetlands as well as in the fallow lands. Proper management of fish and shrimp farming can lead to good profits. Land selection, water management, food management and market study and training are important for fish farming. Land with good water retention capacity is suitable for fish pond. The soil and silt content of this soil should be more than 50% immortal. The cost of digging a pond is less if the land where the hollow land is selected while digging a fish pond is reduced. In order to start fish farming, first of all it is necessary to make a pond. The shape of the pond should be rectangular. The length of the pond should be one and half to two times the width. To fill the pond, water should be taken by gravity. Kakargiva lake should have water filling facility. There should be facility to take water from river, Tavheer, Raran, Nala Kakargiva canal by installing electric pump / engine. A fine asphalt net should be placed on the water supply pipe and a crushing chamber should be made. There should be arrangements for taking and discharging water. If only shrimp farming is to be done in the pond, water can be removed from the bottom of the pond. The depth of water in the pond should be six feet and water should be available at least ten times. The acid-water index of water should not be less than 7.00 and not more than 8.5.  The soluble oxygen must be immortalized in four parts per million (four ppm). Water should be clean and polluted. The pond should not contain aquatic plants, as well as other shrubs.
After taking water in the pond, before starting seed culture, the acid-water index of the water should be fixed 15 to 20 days in advance. For 20 guntha ponds 40 to 100 lbs of lime should be given. Wet dung, urea and sesarigal superphosphate should be used according to the size of the pond and expert advice for natural preparation of fish in water. This helps in preparing the food naturally. Use of urea should be stopped if moss starts growing in the pond. How to select fish for aquaculture?
Production depends on how the fish are selected for aquaculture. In Maharashtra, sea fishing is the main business. However, there is a need to increase freshwater fishing business in view of declining marine fish production.At present, emphasis is being laid on increasing fish production in small ponds, lakes and reservoirs. The state government also has plans to promote fisheries. Production depends on how the fish are selected for aquaculture. There are a few things to keep in mind when selecting fish. They are as follows –
Raise fish suitable for climate and water.

There should be fast growing species for immortality of fish.

Seeds of selected fish species should be easily and timely available.

Growing fish should be selected by providing natural food.

Fish species that eat each other should not be selected.
Still have some doubt? Book a Free Call!
FACEBOOK DISCLAIMER
This website is not part of the Facebook website or Facebook Inc. Additionally, this site is not endorsed by Facebook in any way. Facebook is a trademark of Facebook, Inc.
GOOGLE DISCLAIMER
This website is not part of the Google website or Facebook Inc. Additionally, this site is not endorsed by Google in any way. Google is a trademark of Google, LLC.